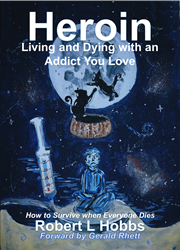 "This book captures the essence of the addiction of an opiate addict from the eyes of his father. It depicts the full spectrum of emotions that he lives with every day, not knowing whether his son is going to live or die."
ATLANTA, GA (PRWEB) APRIL 18, 2017
Today, Paduka Press released the emotionally intense book on addiction, overdose, and recovery, Heroin—Living and Dying with an Addict You Love, How to Survive when Everyone Dies. Available in bookstores today.
"Three years ago on a Monday night my son confessed he was a heroin addict; on Tuesday morning he was blue, with no pulse, on the bathroom floor. The family was thrust into a life changing situation with no idea what to do or where to turn. The information found on-line was sketchy at best. The family became isolated due to fear, humiliation, and shame. No parent should ever be cast into a life-and-death situation with nowhere to turn – that is why this book was written. It took three years of personal recovery and another 100 days of writing to get this information published, and it is regrettable that it took so long while so many were dying. That's how heroin works; it will punish everyone involved in its deadly trap, and it will not rest until everyone dies," said Author Robert Hobbs.
Gerald Rhett, Founder of Recovery Unlimited, said, "Most times, loved ones are not able to discern the difference between love for the addict and hate for the addiction. This book captures the essence of the addiction of an opiate addict from the eyes of his father. It depicts the full spectrum of emotions that he lives with every day, not knowing whether his son is going to live or die. I commend this father for being so transparent in his storytelling and wanting to share his experience with the many parents and loved ones of addicts all around the world."
"Heroin – Living and Dying with an Addict You Love, tells a painful, riveting story of a father's life spent fighting his son's heroin addiction and the painful effect on the family. Many addicts die from addiction and many more experience repeated relapses. I implore anyone with an addiction or an addicted family member to read this book for the knowledge and education about addiction within the family, and the struggles experienced by the addict to get clean. This book may save lives," echoed Dr. Walter Brooks, CEO of Tangu, Inc.
###
About Paduka Press
Paduka Press, a subsidiary of The Sandalwood Wellness Center, LLC, is a publishing company serving writers focused on social and cultural issues, such as wellness, recovery, and life-changing come-back stories. We can be reached via info@sandalwoodwellness.com.
About Recovery Unlimited
Recovery Unlimited Services, LLC performs trusting confidential evaluations & treatment services for alcohol and chemical dependencies, mental health, individual, group and family counseling, Intensive Outpatient Programs (available while maintaining employment), and DUI Intervention Program Evaluations and Treatment. Families and friends are encouraged to be involved in the treatment process and to participate in recovery meetings or other support groups in their communities.
About Tangu, Inc.
Tangu, Inc. is a substance abuse and mental health treatment program with two locations in Atlanta, Georgia. Since 1994, Tangu has helped hundreds of clients and families with substance abuse problems guide their way to a lasting sobriety.